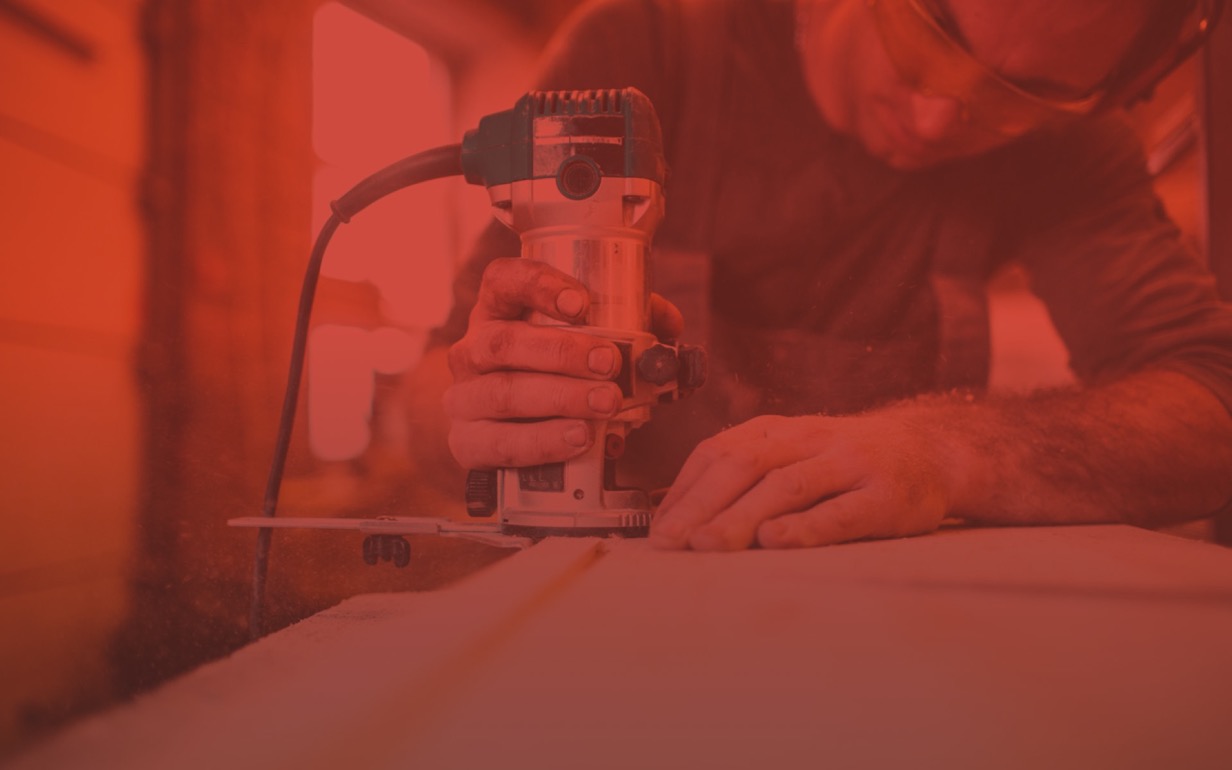 Hand and Power Tools
Tools of the Trade – Used to Help, Not to Harm
Employees who use hand or power tools are routinely exposed to the hazards of falling, flying, abrasive, and splashing objects, or to harmful dusts, fumes, mists, vapors or gases. With an incidence rate of 7 cases per 10,000 incidents and an average of 4 days spent away from work attributed to cuts or lacerations on the job promote just how important the utmost in safe operations are while using hand or power tools.
Hand and power tools are used in most industries by untold amounts of employees. Employers have a duty to provide a safety plan to guide employees when working with these hand or power tools. We've outlined some areas below to pay special attention to!
[1926.300] – Safety Precautions and General Requirements (Including: [1926.300(b)] – Guards and [1926.300(d)] – Safety Switches)‍
[1926.301] – Hand Tools
[1926.302] – Power-Operated Hand Tools (Including: [1926.302(a)] – Electric Tools, [1926.302(b)] – Pneumatic Tools, and [1926.302(e)] – Explosive-Actuated Tools)‍
[1926.303] – Powered Abrasive Wheel Tools
[1926.305] – Hydraulic Power Tools, Rachets, and Jacks
Do the Hand and Power Tool guidelines apply to me?
More than likely. Under OSHA's General Duty Clause (Section 5(a)(1) of the OSH Act) employers are responsible for protecting their employees from a hazardous working environment.
Content Preview
Hand and Power Tools

Revision:
0
Date:
1/31/2023
Prepared by:
Approved by:
1.0 INTRODUCTION
This section applies to all hand and power tools used by _____ employees and is designed to safeguard those employees when working with hand and power tools. _____ employees will adhere to the requirements listed in this section while on company or host-facility worksites. _____ requires that all employees follow the guidelines in the section in order to reduce risk of injury and enhance employee safety.
2.0 PURPOSE
Tools are such a common part of our lives that it is all too easy to forget that they may pose serious hazards. All tools are manufactured with safety in mind, but tragically a serious accident often occurs before steps are taken to search out and avoid or eliminate tool-related hazards.
In the process of removing or avoiding the hazards, we all must learn to recognize the hazards associated with the different types of tools and the safety precautions necessary to prevent those hazards from occurring. _____ is responsible for the safe condition of tools and equipment used by employees. _____ employees have the responsibility of properly using and maintaining tools.
This procedure summarizes the basic safety rules we must practice when operating different types of tools so as to avoid the potential hazards hand and portable power tools present.
3.0 BASIC SAFETY PRECAUTIONS
_____ employees will be trained in the use of all tools. They should understand the potential hazards as well as the safety precautions required to prevent those hazards from occurring.
Appropriate personal protective equipment, e.g., safety goggles, gloves, etc., should be worn due to hazards that may be encountered while using portable power tools and hand tools.
Safety requires that floors be kept as clean and dry as possible to prevent accidental slips with or around dangerous hand and portable power tools.
Subscribe to the All-Access Membership or purchase this plan a la caret to access the full contents...
Ready to Start Your Safetly Plan?
Create a Hand and Power Tools plan for your organization in just a few show steps.